Yes, I'm taking the blog approach also, although I'll continue the Cinque Terre WIP thread until it
kills me
ends.  I want to post small things, sometimes for feedback as I learn how to paint, build up the courage to pick up a larger brush, and paint more loosely.  It's slow going, so far.
I have been procrastinating, which usually means doing other paintings, and not the ones I really should be working on.  For example...
I completed a tutorial painting on the Michael James Smith website, in his style.  I'm not advocating this, but I think comparing the DMP approach to the MJS approach can be interesting.  It's all realism anyway, and more an alla-prima versus deliberate layered and brush-technique approach.  I'm finding that there are times when DMP doesn't serve me well, and I need to look elsewhere for techniques.
Here is the result, an Austrian snow scene.  I can't show the reference, it's not mine to share, and behind a paywall, but assume that this is reasonably close, but not quite.  It's 12" x 12" Geneva paint on primed wood panel.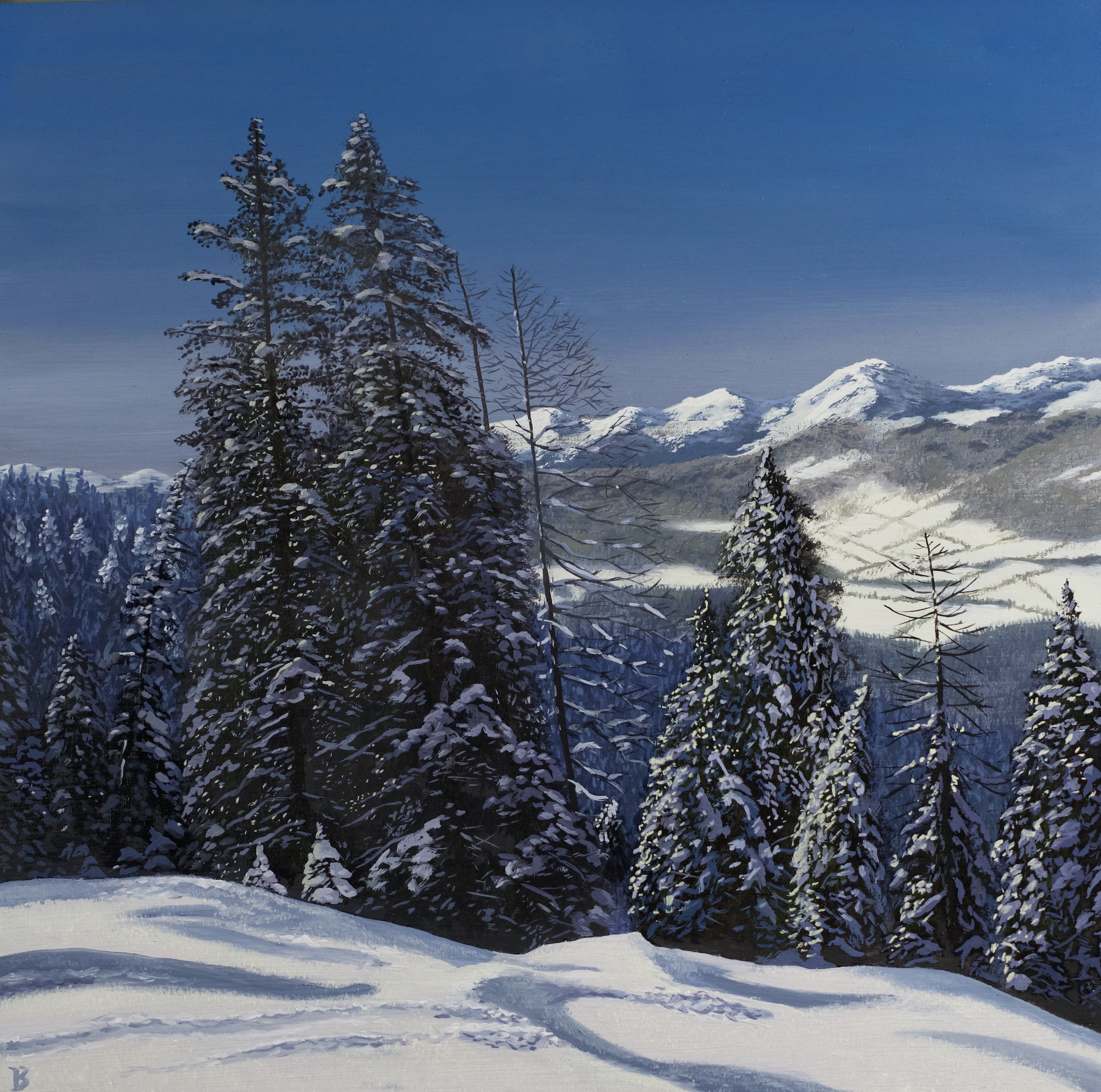 The foreground snow is problematic, and I'm redoing it in a more DMP style, which is the right colors in the right place, and maintaining the abstraction.
The biggest difference I find is speed.  Scrubbing in low-resolution block-in layers, then adding texture and glazes over that is fast.  The above painting was done in three sessions, roughly corresponding to three layers, about 10 hours in total.
The approach relies heavily on exotic brushes and different techniques.  It's hard to master, and I certainly haven't done that, but it works a lot of the time.  The techniques are really just a standard set of abstractions that work.  For example, using this particular brush, with thick paint, for that kind of tree at that distance makes leaves appear.  It's just layers of colored dots.
It's an approach optimized for speed of painting, because it all happens wet-in-wet with paint of different viscosity.  Just like DMP, the paintings look pretty rough until the end, when it all comes together.
All my color matching is DMP, and I think DMP would yield a better foreground and background.  But it's hard to beat this approach for trees.