I need advice - Julia and Natalie painting
I have a photograph that moves me tremendously but the colors are not there in the photo and I don't know how to make the photo something more compelling to do it justice.  This is a photo of my two nieces at Disney World and my mother would love for me to paint it.  I just find the colors boring and I don't know enough about photoshop or enhancing photographs to know what will give it the boost that it needs.  I love these two girls and this photo has an essence of their love for each other that I would love to be able to capture but am at a loss for how to go about it.  I am not interested in a grid, step by step photo copy painting - I want it to look like an oil painting and have some life and love in it.  Any suggestions are appreciated - thank you in advance for your generosity.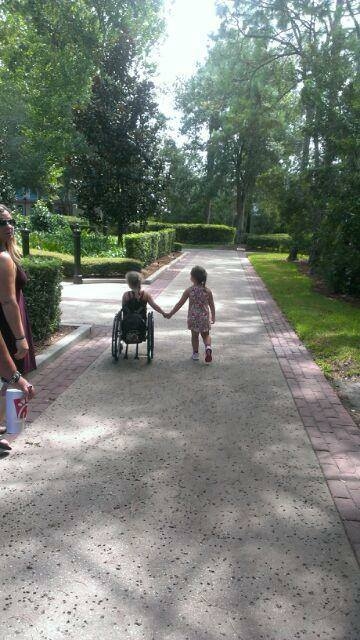 this is without cropping or any adjustments.  My initial drafts involve cropping via more golden mean with Julia, in the wheelchair, being the focus.  I would love to paint this with love and liveliness = perhaps color Natalie's dress better? I love the shadows but there is just still some "blah" there that is not compelling when I think of something framed.  HELP!   Thank you again...