Hello, yesterday I found this very talented Dutch artist named Jos van Riswick, who also paints alla prima, but in different style than Mark's. He paints on masonite panels, prepared with Lefranc et Bourgeois gesso. "This type of acrylic gesso has a very subtle tooth to it, which simplifies smudging out brush strokes", he says. 
He explains his way of painting: 
"I try to stay faithful to what I see. If possible I use the sight-size method. This means that you put your subject as close to your canvas as possible, so that one can view both at the same time, without turning the head. 

This method has been applied by many 19th century 'salon' painters, like eg. John Singer-Sargent."
To start, I usually mix a couple of salient colors that I see in my subject, for instance: 2 colors for the background, then a shadow and light color for each object etc... This way I have a mixture that is not too far off any color I will need and I don't have to start from zero each time when I'm painting. Mixtures do have to be adapted continually of course. Making exact mixes is impossible.

Lately, I've been painting on mdf panel al lot. I prepare the panel with acrylic gesso (Lefranc & Bourgeois). Before I start to paint, I apply a thin layer of especially formulated medium on the panel... (50% stand oil / 50% Liquin.) 

The layer of medium gives the paint a homogeneous consistency all over the panel, which I like. The paint can be moved (and removed) easily. My medium is very slow drying, so I can work wet into wet for about 2 days. 
His website ( http://www.josvanriswick.com/ ) is full of striking paintings, such as this one:
And this one: 
His YouTube channel has many demos, like of the painting above and many others.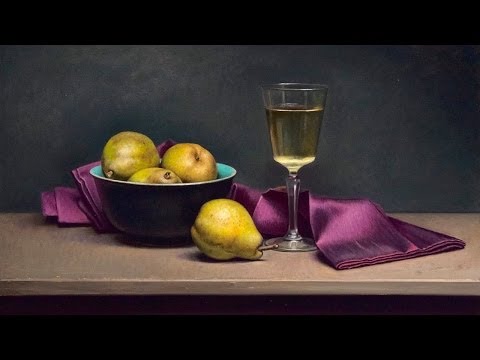 So what do you guys think of this style of painting? 
I'm posting this because watching his videos you'll see how loose it is, since there is no drawing on the canvas previous to the painting session, and everything is done on about 10 hours or so, according to him. He claims not to know how to draw, by the way. I think this is very interesting.
Cheers.