I have a genetic condition as red-green color blindness.  It is the bane of my life.  I could create a laundry list as long as your arm of things is has prevented me from doing in life.  I have also found little "life hacks" to work around the handicap in certain areas of my life.  I am trying to figure out if it's possible to do so in this context and successfully learn to paint.
I've been watching a lot of Mark's videos and one idea I've had is simply to have my wife assist me.  Have her mix up the colors in advance and then I'll work them into the canvas.  I am referring to this video here: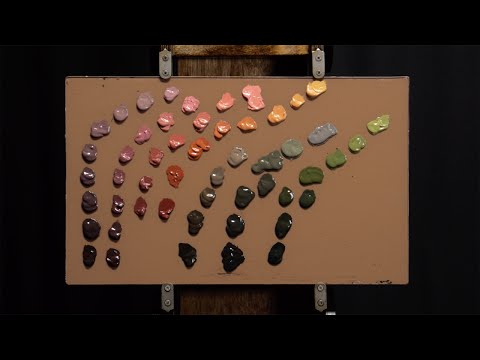 The only problem I see with this is that when I watch the video on setting up a color palette with the proper steps of color with darkest values on the bottom to lightest chosen vales at the top, Mark then says that you'll mix colors side to side.  Essentially to taste.  I can see how my wife and I could work as a team to set up the paint in the value steps as outlined, but when it comes to mixing them together in order to get things "just right" on tone....how I would I know if it's just right or not? 
I could judge value...but that's it.  I couldn't have my wife do everything for me for every single step of the way every time I need to create a transition color.  I'm thinking I might just have to release control and just like..."use the force" and "let the force guide me" kind of thing and just mix and hope and whatever comes out comes out?
Of course maybe I'm thinking of it completely wrong and there's a solution I'm not thinking of.  Which is why I'm asking for input from this group.  Any insight that could be lent would be greatly appreciated.