I thought this will be better as a new post, rather than continue my previous one.
I painted from the photo "Magnolia Blossom with Bud" by Amy Lamb: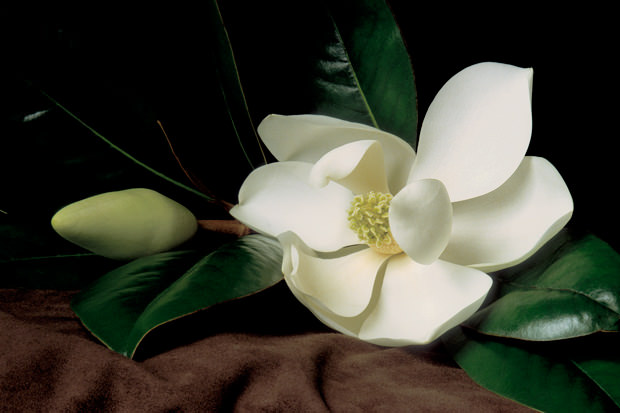 Magnolia with Bud
©2000 Amy Lamb, all rights reserved
As my painting (and my photo of it) is a derivative work, I asked for Amy's permission to post my photo on the DMP forum, and she very kindly gave it.
Here's my painting:
9" x 12"
Canvas covered board
Pebeo XL oils (Titanium White, Ultramarine Blue, Burnt Umber, Crimson, Primary Cadmium Yellow Imit.)
The photo was white balanced in Photoshop from a grey card in shot, so should be accurate. However, the image on my monitor doesn't look true to the painting, but as it's just a commercial monitor and not calibrated, that's not very meaningful.
The flower petals in the photo are creamier, and the shadows in the flower are darker. I do think that this does represent progress though - I'm a lot closer to correct values than I've been previously.
In painting it, my favourite element was the leaf at bottom left. I wasn't really thinking what I was doing at that stage, just painting away thinking "light goes there, that dark shade goes there", etc. It was only when I looked away and then back that I thought, "wow, shiny!". That was a genuine thrill for novitiate me - very happy!
Your comments and critique are welcome.