I really want to paint flowers well. With practice, I am hoping to make progress. Any help or feedback is appreciated - especially if you paint flowers well and have some tips or insights. I have spent countless hours reading and watching dvds. It is now down to the practice of getting better.
My first flowers from my garden with Geneva paints - painted Summer of 2017
The above won 2nd place in the Advanced Amateur division of a local art fair but I was never pleased with the roses. This is oil on linen 10x16
Below is just reference for my well documented thread of trying to copy a Michael Klein painting from his dvd.
After great feedback, I went back to my Geneva limited palette - picked a rose from my garden and attempted to paint it. Not only was time an issue because of the death issue of flowers, but I was also going out of town for a month so only had a day to paint.
Excuse my messy studio - it is hardly Carder approved but I have about 8 other paintings in progress in various areas of the room.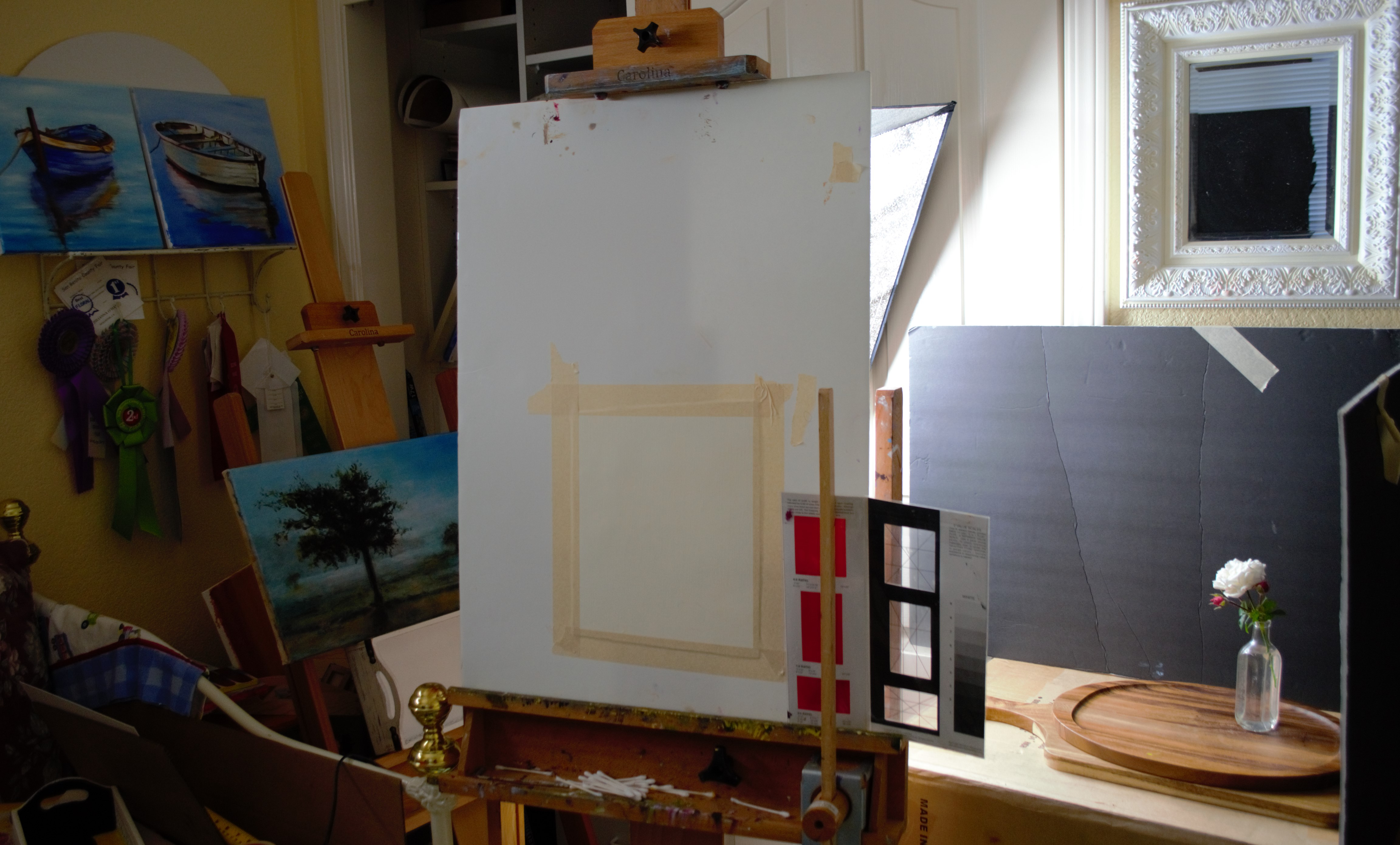 why I love painting from life - here is a photo snap just to get an idea of composition
I don't have to worry about camera settings or blown out areas when painting from life.
So, I started going a tad crazy and had to paint a reminder to not push or exaggerate what I am seeing
Of course, I had to write subtle in red with exclamation marks
Below is as far as I was able to go - I don't remember the exact size of the linen - obviously not my usual golden mean dimensions.
the photo is grainy and from a cheap cell phone - it does look slightly better in person.
I still want to study while on holiday - I have some small tubes of Williamsburg oil paints but only 2 small brushes - no medium or solvents so I used my finger a lot - this beautiful hibiscus was in our yard so I decided to practice with it. I do have some strips of linen here so this is about 5x7
I may go purchase a small container of mineral spirits as it is difficult without that.
Today, I will practice a small red rose from the neighbors yard.
My goal is to paint beautiful flowers - any help or suggestions is greatly appreciated.